Driving Visibility, Intelligence, and Agility through Supply Chain Technology on Cloud
Whether discussing healthcare, food, or fashion, the supply chains that convert raw materials to finished goods are getting increasingly complex. That's because the world we currently live in has become unpredictable, volatile, and fast-changing. Business owners or chain managers like you can easily risk your sanity with overwhelming data and chaotic disruptions in your supply chain movement. So, how can we maintain resilience? That's through supply chain technology on cloud.
Speculating the chance of creating a successful growth business 
Necessity remains the mother of invention. To make sense of the complex supply chain, align demand and supply, and respond to the market for survival, countless professionals have attempted to remedy it with band-aids. While large companies opt for upgrading Enterprise Resource Planning (ERP) software features, SMEs often go for changes such as day-to-day tweaks in Excel templates of their shipments in the hopes that it can increase the chance of creating a successful business.
We are not discounting such efforts in optimizing operations. However, these efforts are far from enough to achieve a fundamentally visible, intelligent, and agile supply chain. In the classic literature on innovation, The Innovator's Solution: Creating and Sustaining Successful Growth, Clayton Christensen proposes that it is "the absence of conscious, trustworthy theories of cause and effect" that makes success seem random. But things can get predictable when collectively exhaustive and mutually exclusive categories of circumstances are defined. The next question then becomes:
Is your product demand predictable? 
The fact that the supply chain appears chaotic, inefficient, and slow to market is just the tip of the iceberg. One must understand the cause behind such phenomenon, develop categorization for what circumstances to do, and devise rationales in practice.
The Harvard Business Review advises researchers that the first step to developing an effective supply chain strategy is considering the nature of the demand for your company's products. What are the functional products that have more established demand? What innovative products are you unsure about the demand but have high-margin potential?
Maximizing supply chain efficiency through workflow optimization makes sense for sustaining products. For example, cutting costs by using a faster courier or investing in reducing the lead time of your manufacturing.
However, more emphasis should be put on responding to the market for innovative, unknown products. How do you react if there is a sudden spike in demand for the new product? How do you eliminate the excess if the innovative product is not popular? The critical decisions about inventory and capacity are positioning them to hedge against uncertain demand. Suppliers should be chosen for their speed and flexibility.
Harvard Business Review Graphic: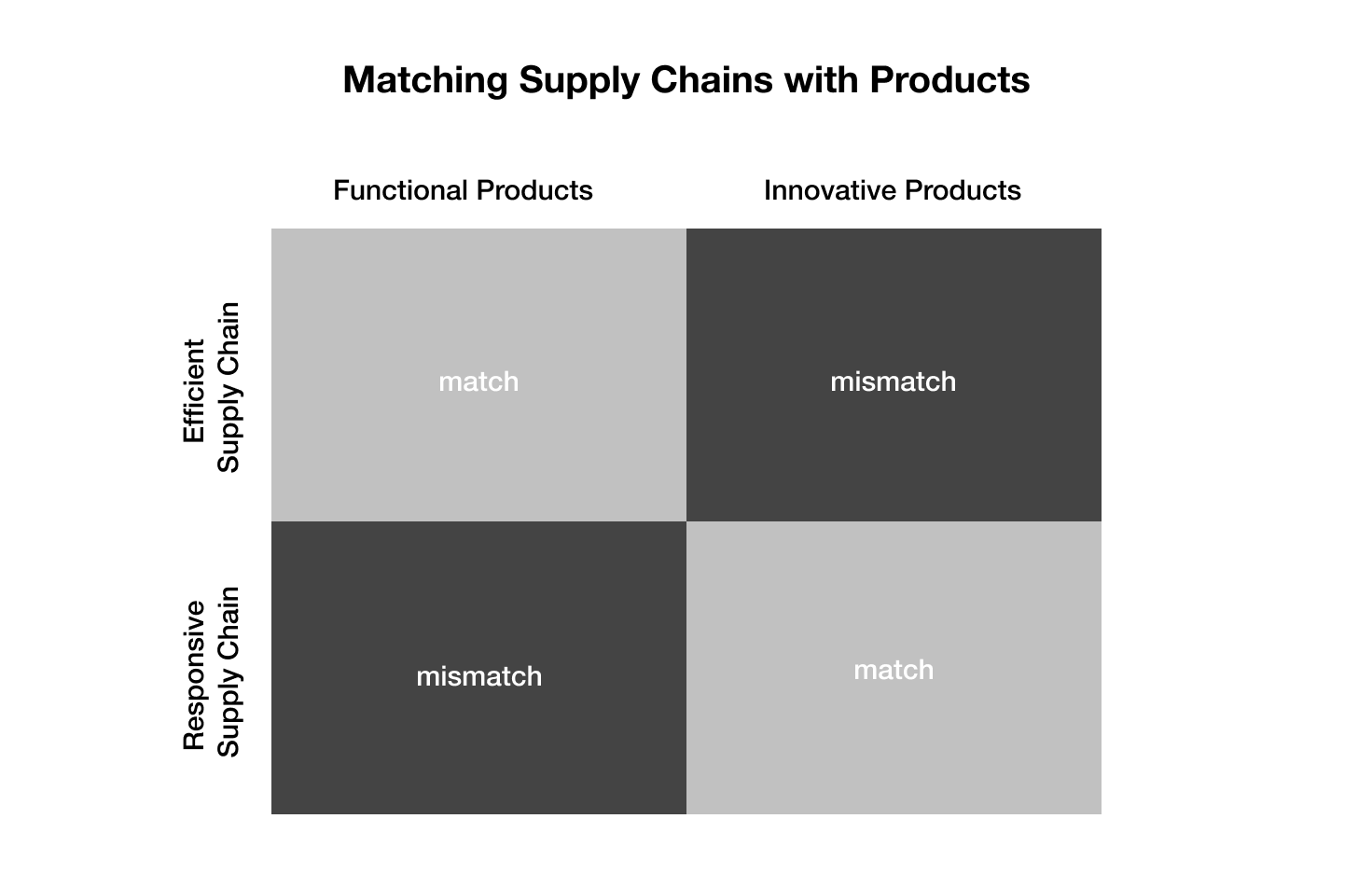 Technology as the key to achieving supply chain resilience 
With the knowledge of product classification, however, many companies still find themselves in the lack of supply chain resilience. They may be aware of the mismatches in their supply chains but don't know what actions to take to get out of that rut.
In the July 2020 Issue of Logisym Magazine, the President of The Logistics & Supply Chain Management Society, Raymon Krishnan, has provided a great formula for the definition of supply chain resilience:
Technology is the key enabler for any supply chain's visibility, intelligence, and agility.
Visibility captures the firehose of data from the point it is generated and tracked through the data's life cycle, helping to maintain an accurate and transparent picture of the macro to the granularity of the supply chain.
Intelligence augmented by artificial intelligence (AI) and machine learning helps make sense of complex data-based situations in the supply chain. You can easily analyze correlations between attributes and trends of the market without significant manual lead time.
Agility supported by a management system on the cloud can help you act flexibly and respond to the market by making and communicating trackable decisions with a wide range of internal and external parties.
Case study: Reengineering a Forwarder's Fulfillment Journey 
To illustrate how technology in the Cloud can drive the supply chain's visibility, intelligence, and agility, let's look at the real case of one of the top 10 forwarders in the world. One of their customers engages in the e-commerce of beauty products.
This forwarder is appointed to store the goods and fulfill the B2C orders for the beauty product owner. The requirement is simple: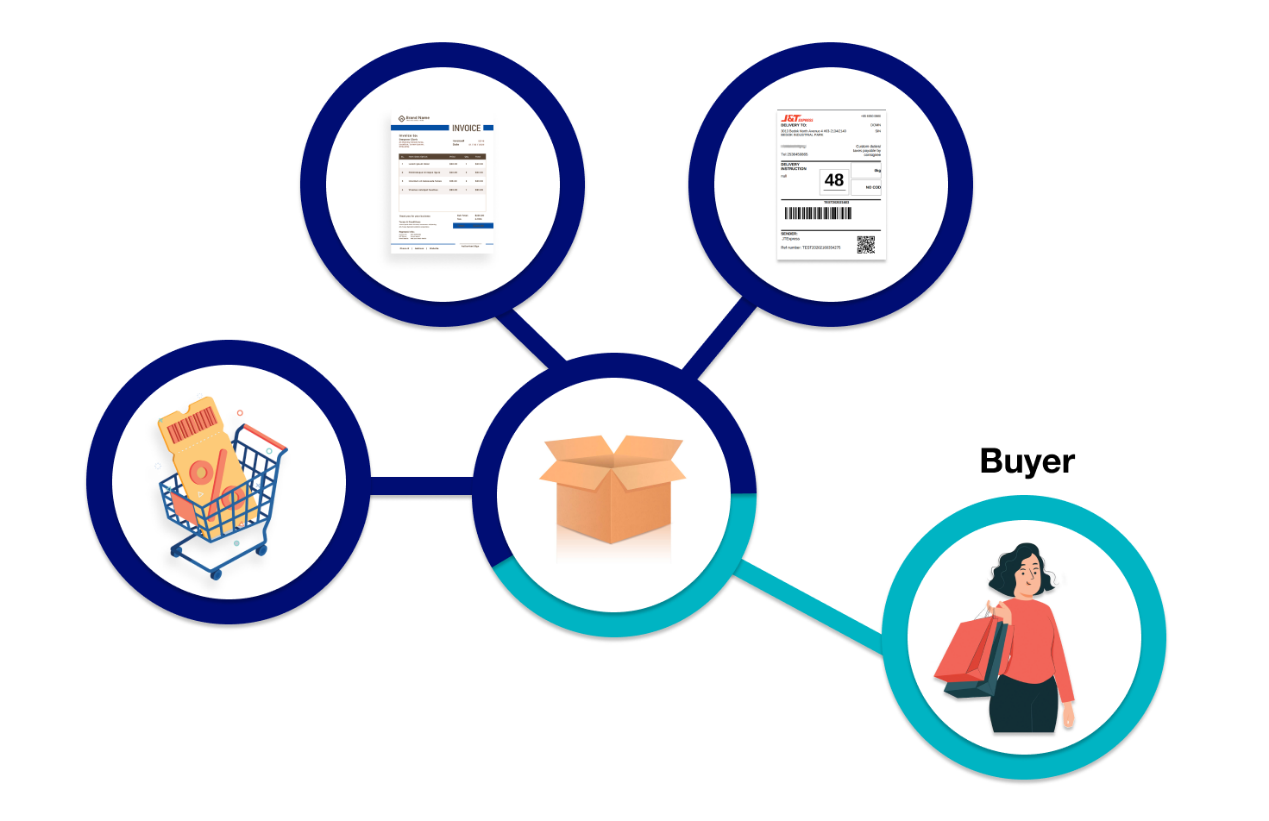 The buyer should receive a parcel that has the following:
An invoice
Courier shipping label
BEFORE 
In their legacy operation, there were multiple systems that the forwarder was involved in, and a total of 14 steps were needed to accomplish this goal of delivery.
The supply chain lacked visibility between multiple systems; it was too complex to comprehend, not to mention deploying actionable steps to mitigate risks or respond to the market.
AFTER 
When the forwarder tapped Aratum as a technological partner, we reviewed the overall workflow. We proposed simplifying the steps using one holistic software, resulting in a 65% decrease in handling costs and time.

Case study: Transform scrap metal processing plant with the Internet of Things (IOT) 
Supply chain challenges manifest differently but evolve without visibility, intelligence, and agility. Let's take a look at the challenges faced by an SME in a fast-growing country.
Established with warehouses all over the region, collecting scrap metals has been a complex process for a particular company in the Philippines. The increasing volume of inflow and outflow of materials involves tedious records and has made manual tracking increasingly difficult.  In fact, the Philippine government is considering banning scrap metal export, especially if companies don't streamline their processes.
At the collection stage of scrap metals, there was also insufficient visual and digital proof to record a transaction, resulting in limited visibility of operations. Staff members used basic programs such as Microsoft Excel to manually track operations, which was time-consuming and prone to mistakes.
Aratum was tasked to tailor technological solutions to streamline their business processes. We added in the transmission of data from weighing scales and CCTV cameras through the Internet. With such IoT integrations ready, this recycler started to be able to capture real-time data from the incoming metal-loaded trucks and streamline their operations with automation. Upon implementation, the handling time of scrap metals has shortened by 53%.
To learn more about the significance of this transformation, you can explore our related content on scrap metal processing advancements.
Summary:
When companies accept that innovations are inherently an unknown trajectory, the great responsiveness of Cloud technology becomes the best companion for growth. Businesses can then reduce risk with large-scale data collection, avoid risks by allocating sufficient lead time for technological adaptation, and hedge risks with a buffer of stock and capacity.
Ultimately, technology means converting inputs of labor, materials, capital, energy, and information into outputs of greater value. Partnering with the right people and a company like Aratum increases the odds of supply chain resilience, making your business successful. Request a demo now.
*Stock image was sourced from Unsplash