"Uncut Gems" in Logistics: People, Processes, and Technology
Customs Brokers Authority Unveils Hidden Treasures, Hon. Samuel Bautista guests in 'Keep Growing, A Supply Chain Dialogue' 
Resilient, reliable, and innovative supply chains are crucial to driving development in economies of all sizes. However, with various persistent challenges present, the logistics industry has yet to transform to its maximum potential. Philippines Professional Regulatory Commission (PRC) for Customs Brokers Chairman, Hon. Samuel Bautista unearths both the roadblocks, and the shining opportunities as economies pursue growth in this episode of 'Keep Growing, A Supply Chain Dialogue'.
'Keep Growing, A Supply Chain Dialogue' focuses on global supply chain experiences, insights, and technology. Hosted by Aratum, each installment features industry leaders addressing critical topics while encouraging key stakeholders to revitalize their supply chain systems through intelligent innovations as they pursue growth.
Q: How would you describe the work you do with the logistics industry right now?
A: I've been in this industry for three decades. Ever since graduating from college, I have dedicated my life to this field. Initially starting as a customs broker, I gradually expanded my involvement in logistics, encompassing areas such as warehousing, freight forwarding, and international courier services.
This journey provided me with valuable insights into the vast scope of the industry and the diverse responsibilities involved in facilitating the movement of goods, both domestically and internationally.
Last year, I was honored to be appointed as the Chairman of the Professional Regulatory Board for Customs Brokers. This role gives me an opportunity to give back to the profession. As Chairman, my primary responsibilities include implementing the provisions outlined in the Customs Brokers Act of the Philippines and advocating for the customs broker profession while working towards its professionalization.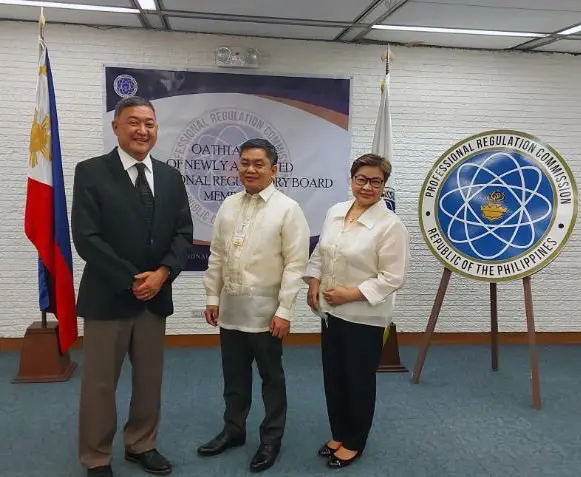 The newly appointed Professional Regulatory Board for Customs Brokers, left to right, Albert Cruz, member; Samuel Bautista, chairman; and Dr Nenette Dagondon, member. Source: Bautista is the new PRBCB chair – PortCalls Asia
Q: Among all the licensed professions, customs brokers are often overlooked. Typically, we hear about doctors, engineers, and lawyers, but it's important to recognize the significance of customs brokers as well.
A: Sometimes people ask, "What exactly is a customs broker?" It's understandable because there are around 46 or 48 professions regulated by the Professional Regulation Commission. The customs broker profession, in particular, is known for its challenging board examination. When I took the exam in 1990, the passing rate was about 15%, but now it has increased to around 40%.
Q: I'm truly curious. Could you briefly explain the role and essence of a customs broker?
A: The role of a customs broker goes beyond dealing solely with customs clearance. It involves providing assistance and services to traders, importers, and exporters in navigating the complexities of cross-border trade.  
For instance, as a trader in the Philippines distributing products from various origins worldwide, you would rely on a customs broker to ensure proper compliance and documentation during customs clearance. Additionally, customs brokers offer guidance on tax computations and the utilization of tax preferences, such as those available to importers from ASEAN member countries. Over time, our role has expanded to encompass other facets of logistics and supply chain management, including warehousing, distribution, and even collection services on behalf of customers.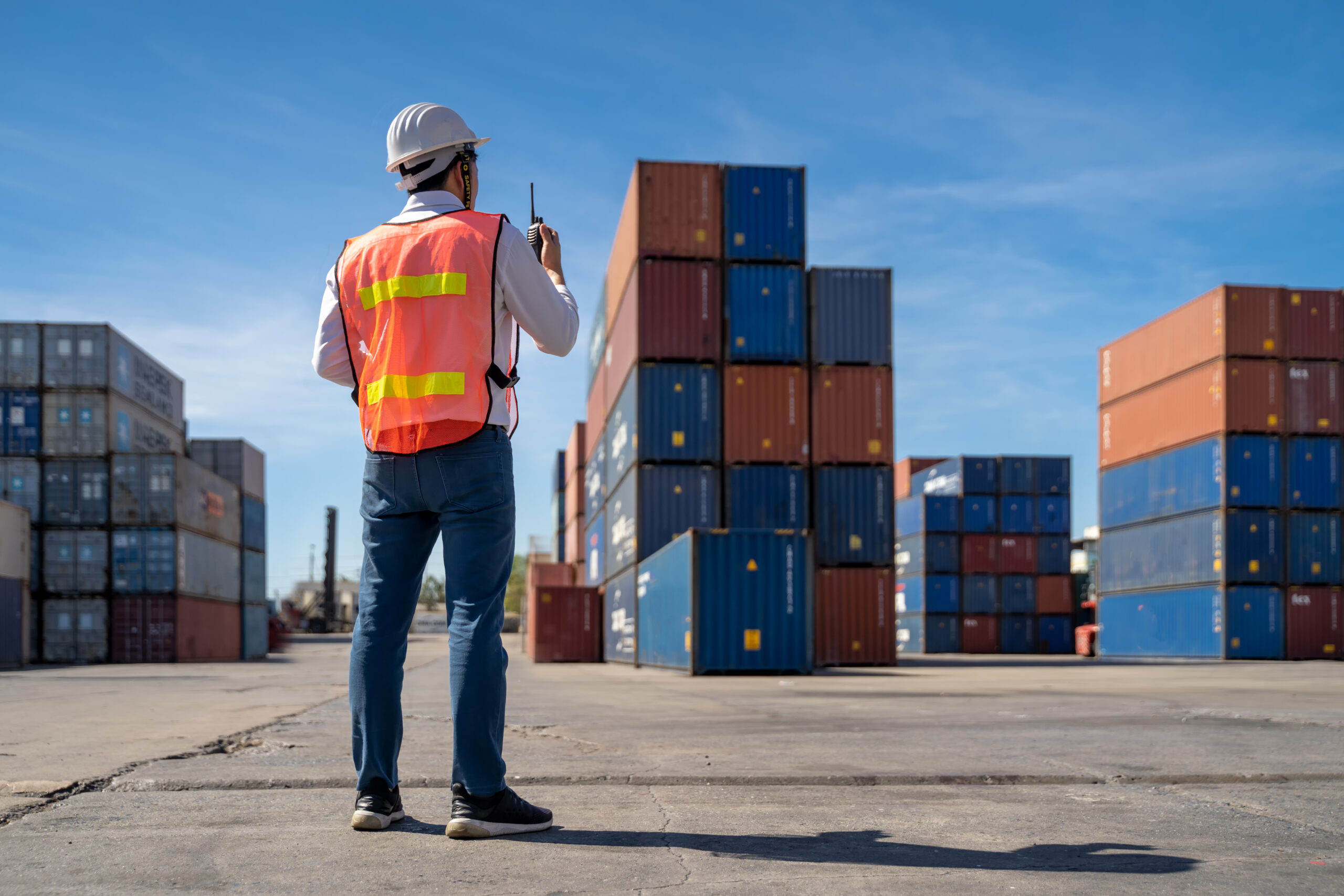 The Uncut Gems in Logistics
Q: Now I understand that this is the knowledge that every trader or global trading and investment leader should be aware of. Thank you for clarifying that.  
Let's shift our focus to the theme at hand: "Uncut Gems" in Logistics. The term "uncut gem" refers to a precious stone, such as a diamond, that has not been polished yet.  
Do you believe this metaphor is applicable to the logistics industry, both in the Philippines and globally? What are your thoughts? 
A: When I came across the term "uncut gems" in the invitation you sent me, it resonated with me, and I agree that there are indeed many unexplored opportunities in the field of logistics.
There are numerous aspects that require further attention and improvement, such as refining processes, streamlining operations, and enhancing efficiency. 
It is essential to assist small and medium enterprises in comprehending the logistics involved in their business.
While they may excel in production or marketing, they may lack the knowledge to effectively deliver goods to their customers. Efficient and cost-effective logistics systems are crucial for reaching the end customers. As service providers, we play a vital role in refining these "uncut gems" throughout the trading process.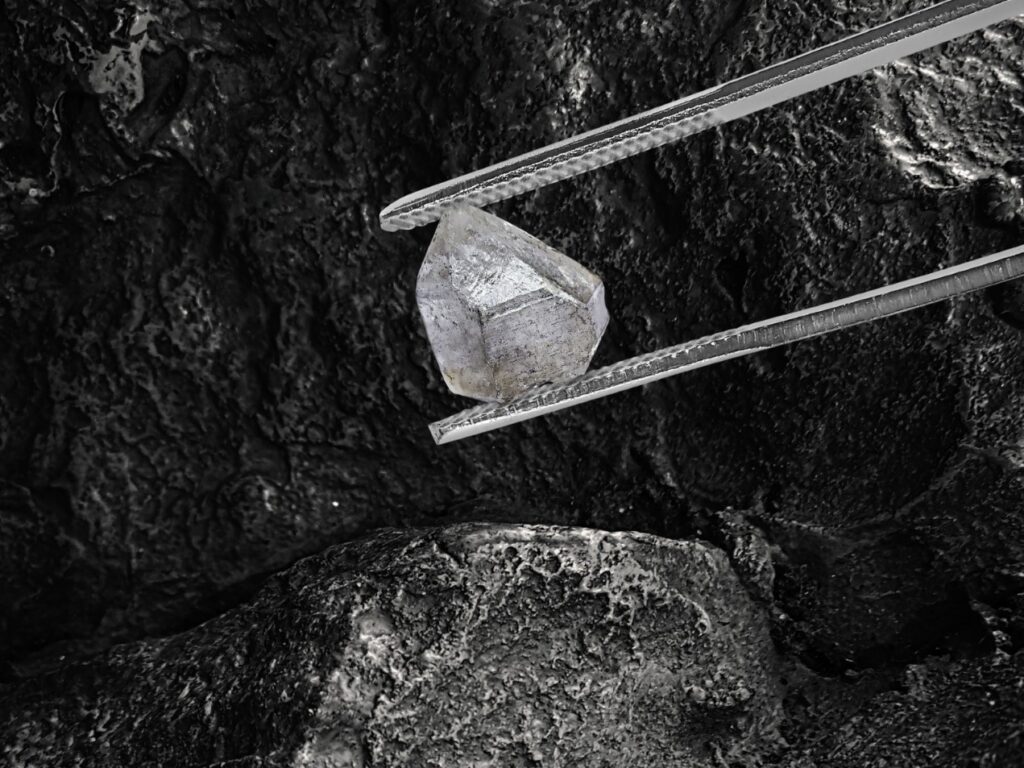 Q: In our case, technology and digital transformation may serve as the means to polish these gems. With how critical it is to refine these "gems" to yield their potential, what are your insights on the effectiveness of digital transformation as a tool to support this process?
A: In every product or service that we offer, customer experience is paramount. Digitalization in logistics has gained momentum, particularly during the pandemic. It aims to enhance efficiency, reduce costs, and minimize paperwork.
For instance, in customs processes, eliminating paperwork improves cost-effectiveness and enables seamless information transfer. Additionally, digitalization provides transparency and visibility throughout the logistics journey, akin to e-commerce order tracking.  
Collaborative data sharing contributes to sustainability by reducing environmental impact, such as minimizing packaging. Overall, digitalizing logistics benefits businesses, governments, and individuals by driving operational efficiency, improving visibility and collaboration, enhancing customer experience, and supporting sustainability efforts. It is a critical concern for stakeholders and citizens alike.
Challenges in Harnessing Logistics' Potential 
Q: Could you share your personal insights regarding the challenges that economies like the Philippines encounter in harnessing their productive potential?
A: I would categorize the struggles we face into several aspects.
Firstly, our geographical nature as an archipelago poses challenges in terms of infrastructure. The infrastructure gap, such as bridges and roads, hampers productivity and competitiveness, especially in remote areas. Efforts are underway to address this through ongoing infrastructure projects. Telecommunications infrastructure also needs improvement, as connectivity remains limited in some areas, hindering digitalization and market access for farmers and small producers.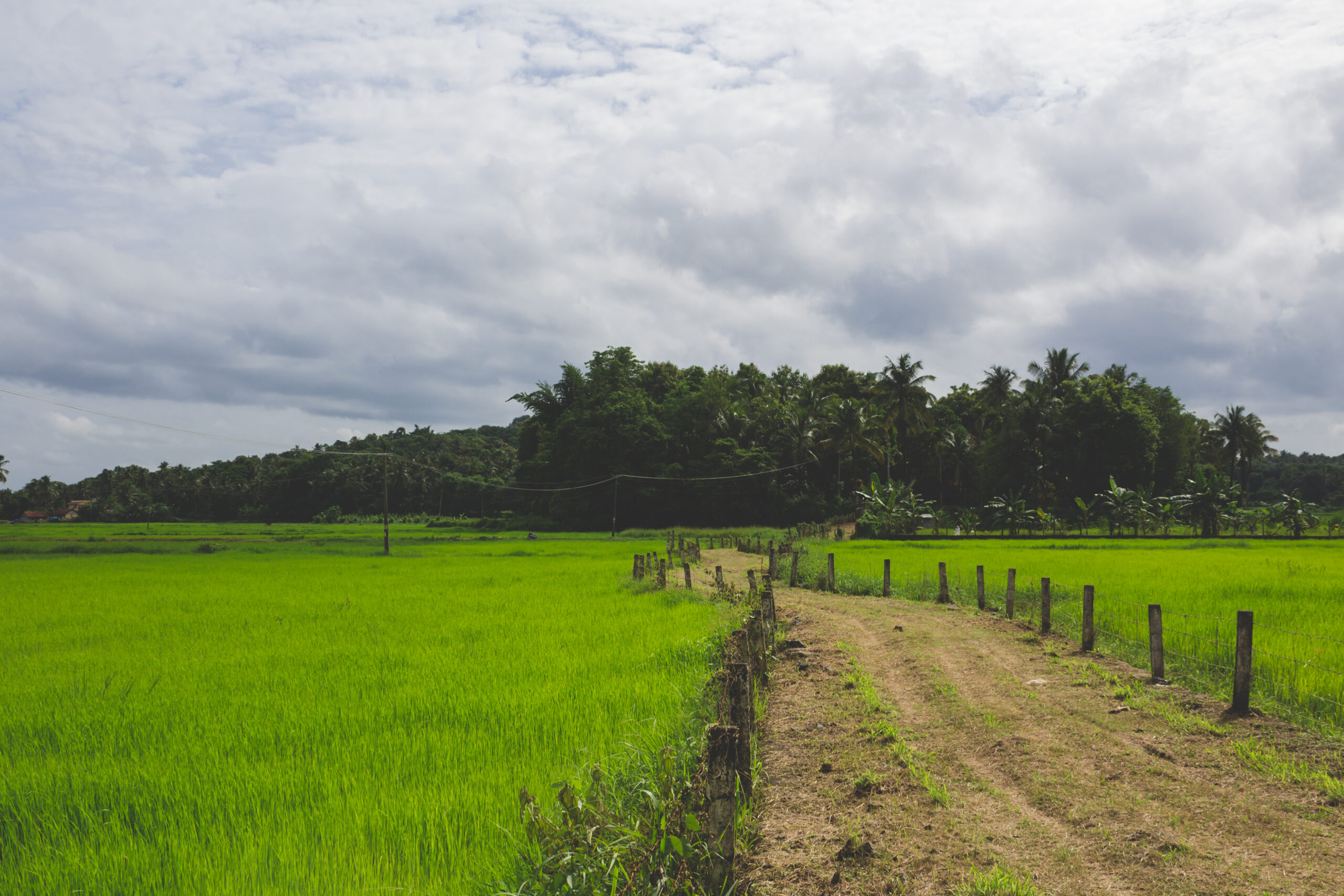 Another challenge is the skills mismatch and adjustments needed in our education system, as highlighted by the World Bank. However, progress has been made in addressing this issue. Initiatives like the Philippine Skills Framework for Logistics and the inclusion of supply chain management courses in the curriculum of Bachelor of Science in Customs Administration are steps towards improving skills and knowledge in the logistics industry.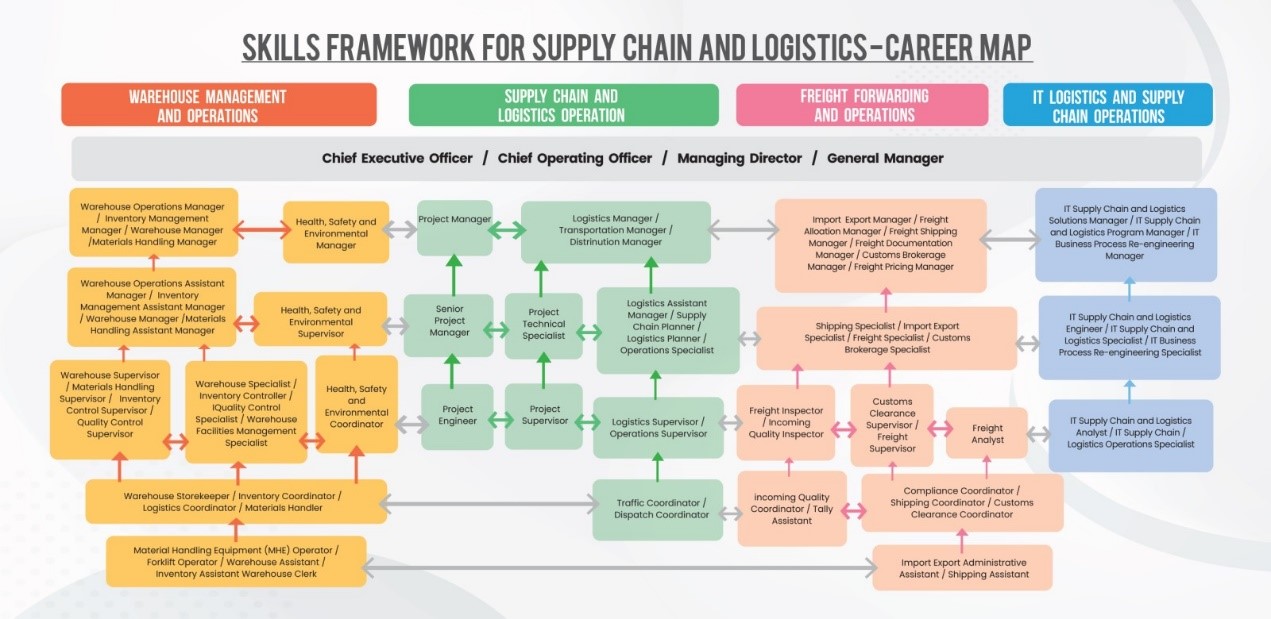 Philippine Skills Framework for Supply Chain and Logistics – Career Map See Complete E-Book Here: Philippine Skills Framework for Supply Chain and Logistics | Logistics Observatory (dti.gov.ph)
The brain drain phenomenon is also affecting us, with professionals and skilled workers leaving the country for better opportunities abroad. This applies to various sectors, including logistics, where customs brokers and truck drivers are sought after in countries like Singapore, Dubai, and Canada. Efforts are needed to retain skilled workers and create better opportunities locally.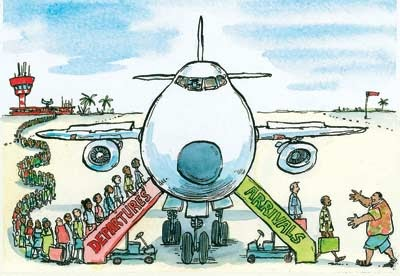 Comic from the Economist
Our vulnerability to natural disasters is another significant challenge. As a country prone to typhoons and natural calamities, disruptions in transportation and supply chains occur during extreme weather events. Addressing these challenges requires comprehensive efforts from the government, private sector, and civil society.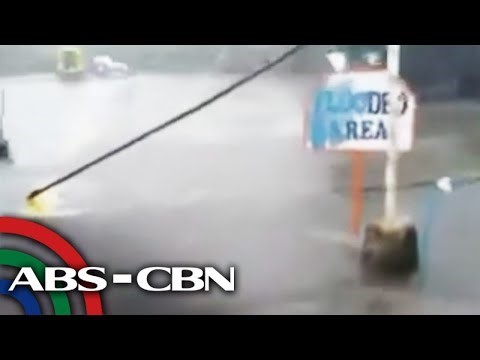 PH most disaster-prone country in the world: report | ANC
To unlock our productive potential, we need increased investment in infrastructure, both from the government and the private sector. Simultaneously, the government must focus on improving the regulatory environment and fostering inclusive growth, innovation, and entrepreneurship within the local business sector.
By addressing these challenges, we can drive sustainable economic development and realize our productive potential. 
Addressing the Gap 
Q: It's reassuring to know that measures are being taken to address these issues. Could you please elaborate?
A: For instance, when discussing skills mismatch and education systems, I mentioned the efforts of educational institutions in collaboration with the Commission on Higher Education (CHED) and the Technical Education and Skills Development Authority (TESDA).
Even during the pandemic, the Department of Trade and Industry (DTI) worked with Logistics Services Philippines, an association representing various logistics sectors such as freight forwarders, customs brokers, truckers, and warehouse facilities, to develop the Philippine Skills Framework.
This framework not only defines the required skill sets for different sectors of the industry but also identifies interventions needed to address skills gaps in logistics.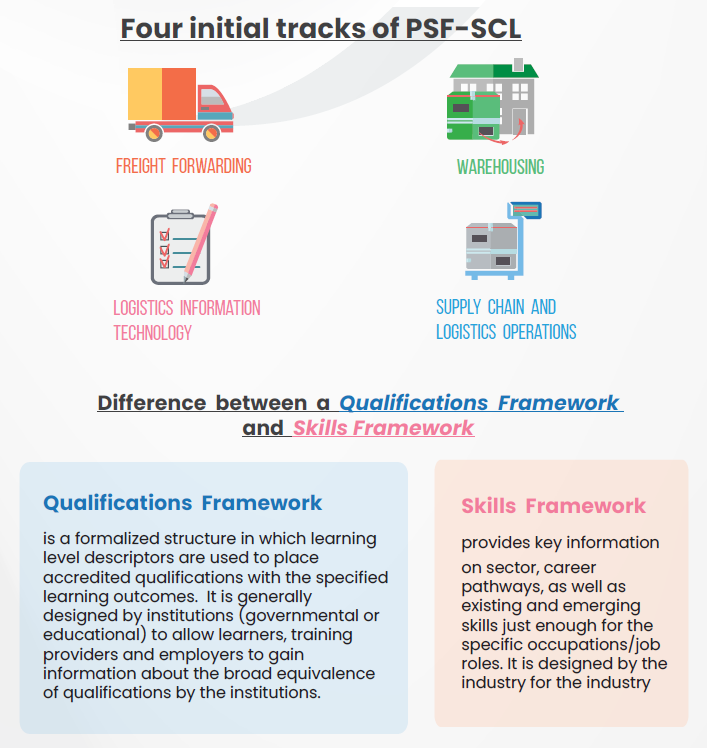 Four initial tracks of the Philippine Skills Framework-Supply Chain and Logistics Philippine Skills Framework for Supply Chain and Logistics | Logistics Observatory (dti.gov.ph)
In terms of the regulatory environment, significant legislation has been enacted. For example, the Customs Modernization and Tariff Act of 2016 addresses customs processes, and the Bureau of Customs (BOC) and Department of Finance (DOF) continuously issue implementing rules and regulations (IRR) to ensure compliance.
Additionally, the Philippines signed the Trade Facilitation Agreement, leading to the creation of the Trade Facilitation Committee through an executive order signed by President Duterte. The Bureau of Customs serves as the secretariat for this committee, which actively addresses trade facilitation issues and ensures the implementation of a roadmap crafted by the committee.
The collaboration among various government agencies, including the DTI, Bureau of Customs, and the Anti-Red Tape Authority, has been instrumental in addressing bottlenecks and regulatory challenges in logistics.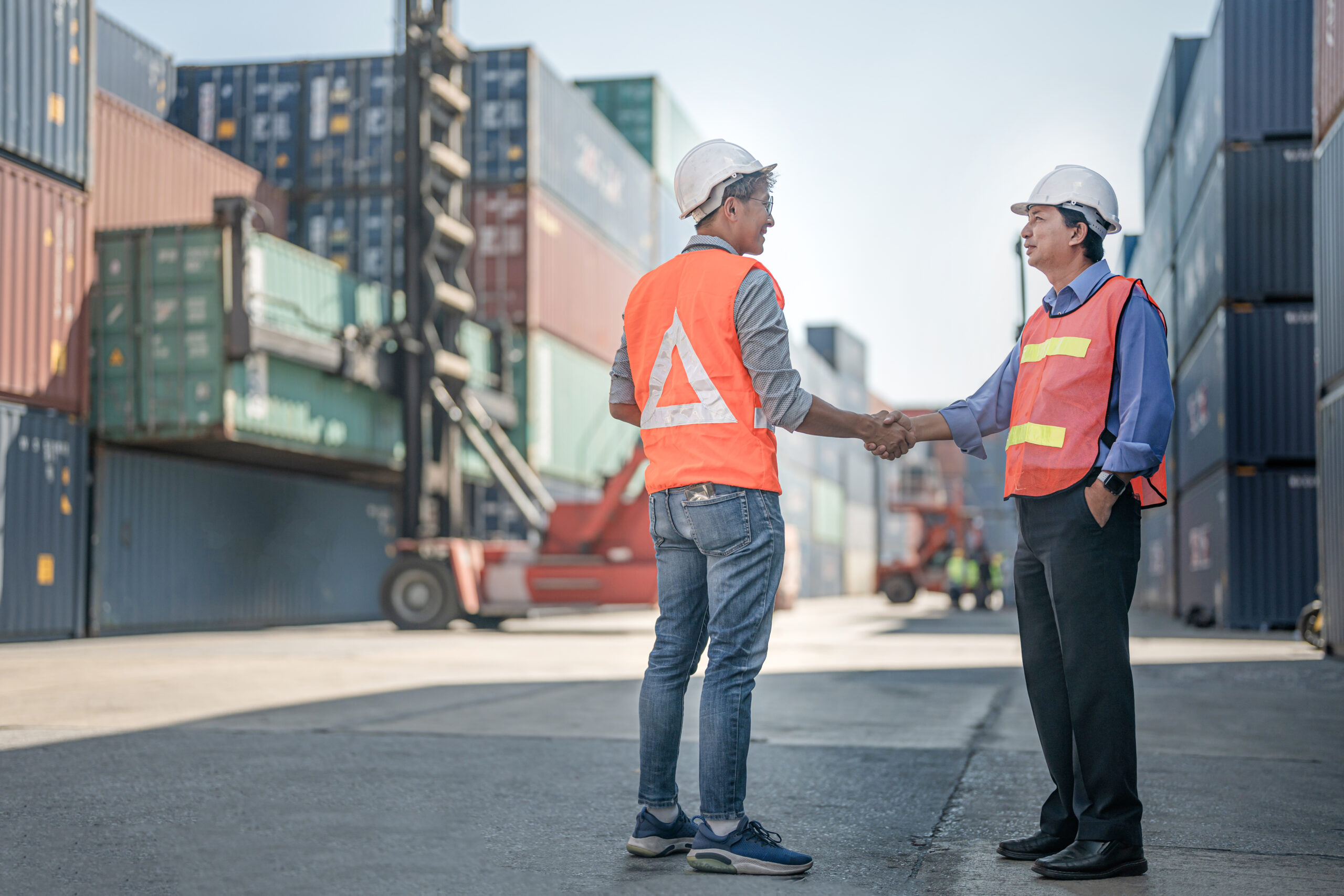 These efforts have yielded positive results, as evidenced by the improved ranking of the Philippines in the latest World Bank Logistics Performance Index (LPI). 
While I need to confirm the exact previous ranking, it jumped to 43 in the LPI, indicating notable improvements in the country's logistics practices. Although changes in the methodology may have contributed to the ranking shift, it is encouraging to see progress being made.
See: PH ports move up in World Bank's logistics index global ranking (mb.com.ph)
However, addressing logistics costs remains a crucial aspect. 
According to a study conducted by the World Bank and DTI in 2017, logistics costs in the Philippines accounted for the highest percentage among Asian countries at 27% of sales. In the last update, there was a slight improvement to 25%.
Nevertheless, it is essential to continue reducing logistics costs to catch up with neighboring countries like Thailand (11%) and Vietnam (14%). Stakeholders in the industry are working together to improve systems and reduce logistics costs, as this directly impacts the country's competitiveness in attracting foreign direct investments (FDI) and investors to the Philippines.
Q: I would like to ask if you were to consider the most significant or impactful strategies that we should prioritize moving forward this year and, in the future, what would they be?
A: I believe it is crucial for us to move together and collaborate in order to move in a unified direction. Often, the problem lies in the lack of consolidation and collaboration, with each stakeholder operating independently in their own silos. This can be observed in our logistics processes.  
Let me provide an example from the transport industry. Suppose I have a delivery from Manila to Batangas, and you, as another trucker, also have a delivery from Manila to Batangas. Instead of both of us individually making the trip with half-loaded trucks and returning empty, there is an opportunity for consolidation and shared space utilization, similar to what we do in air or sea transportation. This is an aspect that warrants further exploration, as it has the potential to optimize our land transport operations.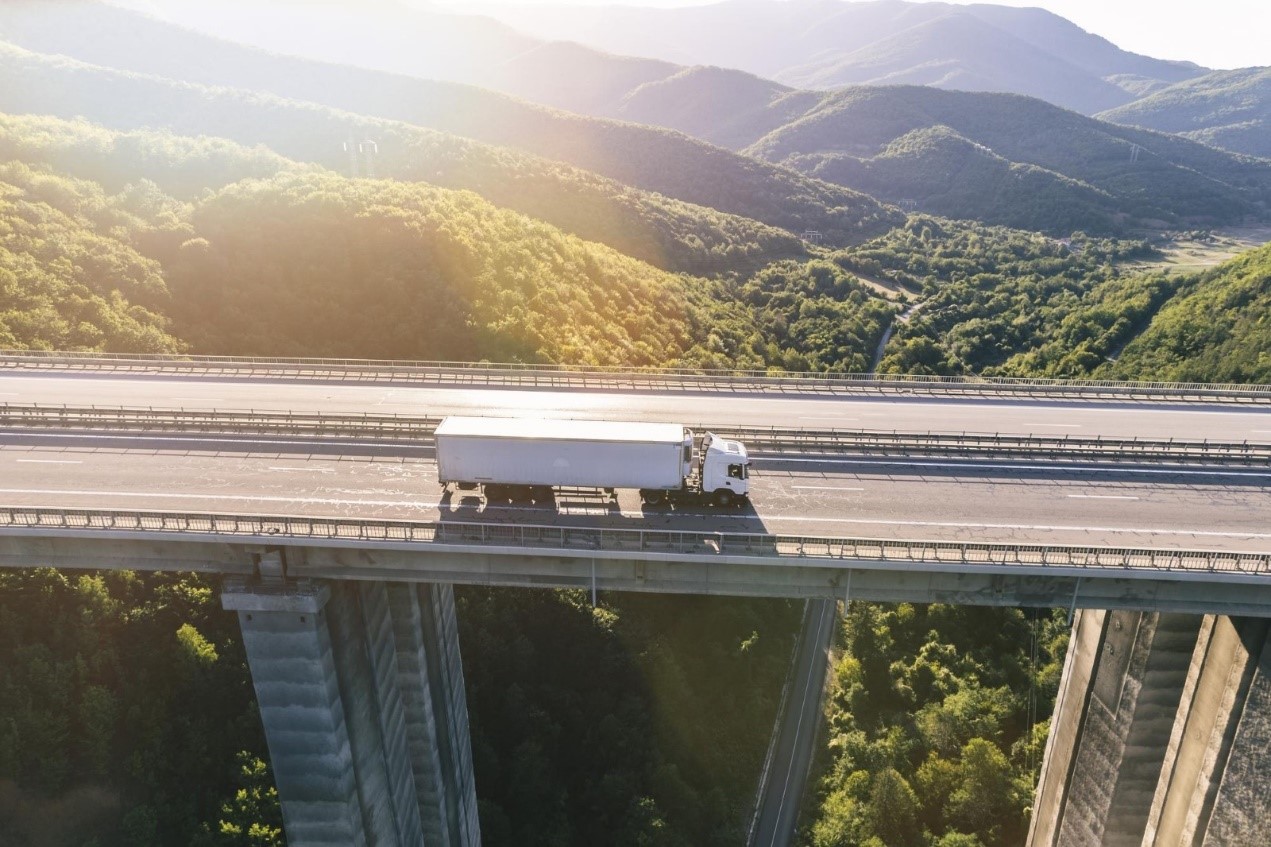 In the past, it was common for customs brokers, like myself, to travel from Manila to Subic Bay to clear goods, even though there were already customs brokers providing clearance services in Subic. However, now we exchange information, collaborate, and share services, reducing costs for both agents and customers.
Therefore, communication is of utmost importance, followed by collaboration and resource sharing. This approach will enable us to progress together, rather than operating in separate spaces and expending individual resources.
Q: Do you think technology can significantly help this process or this strategy?
A: That's a great point you raised. Technology indeed serves as a key enabler for us to achieve these goals. We can observe successful implementations of such systems in the real estate industry, particularly in the realm of rentals, as demonstrated by platforms like Airbnb.
With digitized data and information, we have the ability to transfer and share data seamlessly between different points without compromising control, transparency, or visibility. This is the direction we need to embrace and progress towards.  
Read: Everything You Need to Know About Digital Logistics | Aratum
In the logistics industry, speed and agility are crucial factors. It's not just about moving goods quickly but also about being agile in decision-making. We cannot afford to wait and delay. Instead, we should make data-driven decisions that are guided by the information at hand.
By harnessing technology and leveraging data, we can enhance our agility and make informed choices to drive the logistics industry forward. 
Q: I'm eager to hear your insights or the criteria you use as benchmarks to gauge the progress of these plans. How can we determine if our efforts are bringing us closer to achieving our goals and refining our industry?
A: You cannot define success if you don't have a clear destination in mind. That's why establishing Key Performance Indicators (KPIs) is crucial in every endeavor. By setting indicators, you can measure your current position relative to where you want to be on a scale of 1 to 10, for example.
It's about identifying your baseline and assessing whether you're at a 3 or a 4, for instance, and then navigating the processes and overcoming challenges to progress towards the ultimate goal of 10. This is how we measure success.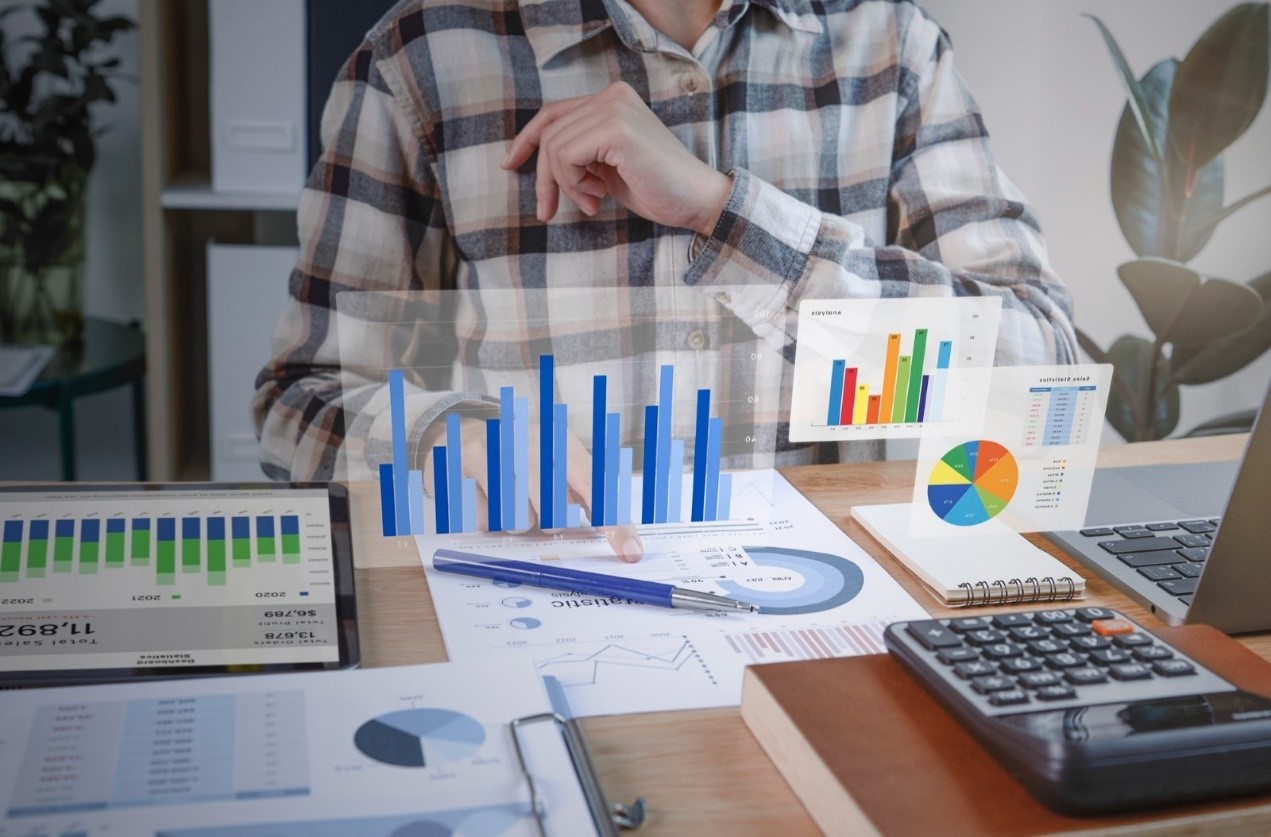 However, reaching 10 is not the end. Sustaining that level of achievement is the most challenging part. Even if you reach 10, regressing to previous steps can be detrimental. Thus, maintaining and preserving your position at the highest point on the scale is the most difficult aspect of success. 
As you mentioned, there's more than just success, there's also sustaining. Do you have any tips for maintaining this position?
I think what is important is for you to monitor trends and innovations. Technology is advancing at an incredibly rapid pace.  
I remember when I started working and began using computers. During that time, we were still using green screens, which you may or may not be familiar with. Then we had DOS-based software until we transitioned to Windows.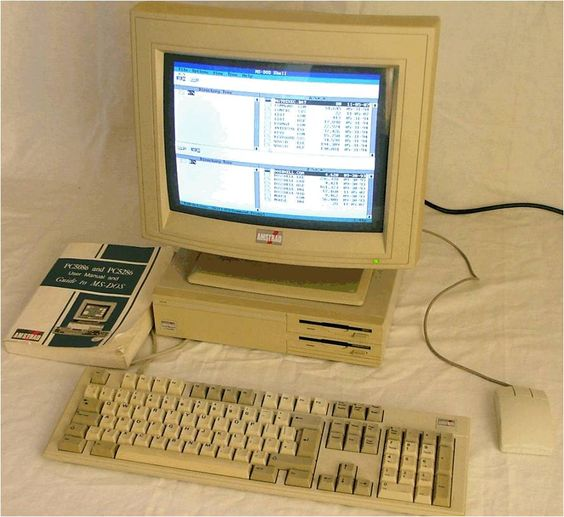 Source: Pinterest
When we started using Windows, I believe I was one of the few employees in the office using it, and some thought we were just playing around. However, we were actually exploring the technology. It's moving fast.
If you buy a smartphone today, it will quickly become outdated. So, you need to continuously update yourself and stay abreast of all the emerging innovations. Otherwise, it will be challenging to keep up with the competition.
Q: I believe your insights are truly valuable, and it's important for our listeners to internalize them. Moving on to your final question, what's next for Hon. Samuel Bautista? Are there any upcoming events or activities you would like to share with us today?
A: We remain committed to our advocacy.
While investing in technology is one aspect, we must also prioritize continuous talent development. Regardless of the technology we have now or will have in the future, we still require skilled individuals to operate machines and analyze data. 
While machine learning and AI are emerging, I firmly believe that the human element will always be essential. Therefore, investing in talent development is crucial.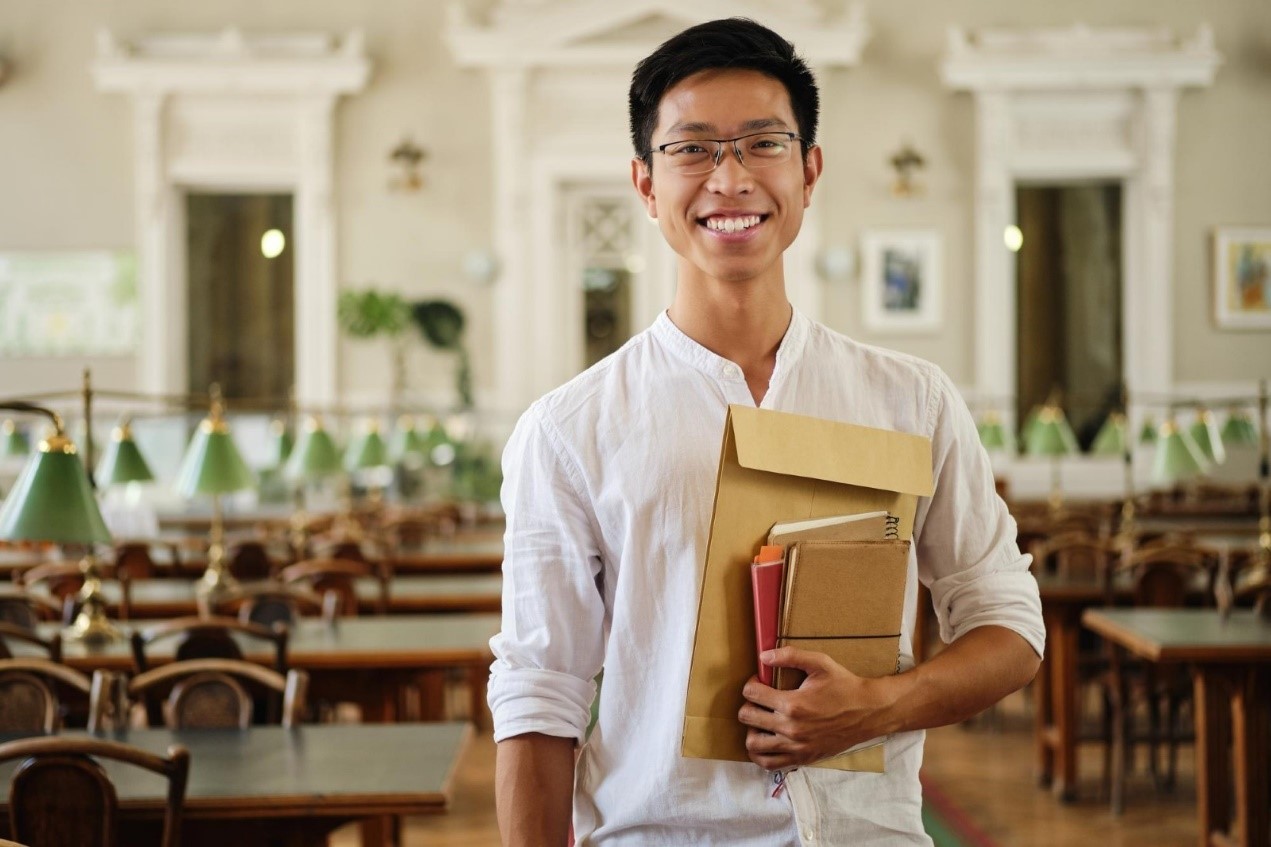 As for the Professional Regulatory Board for Customs Brokers, I recently visited universities in Aklan and Iloilo, and I was impressed by the immense potential I witnessed. Whenever I travel throughout the country, I see unexplored opportunities.
The Philippines is not only a stunning country but also rich in untapped resources. We have a wealth of human resources that need to be nurtured and polished, which is why talent development is of utmost importance.  
Our advocacy extends beyond producing customs brokers; it involves professionalizing our industry. That's why we emphasize continuing professional development (CPD) and encourage customs brokers and professionals to actively engage in various learning activities, such as podcasts and webinars like the one we're participating in today.
Thank you, Wenny, for providing us with this opportunity to join you today.
*Stock image was sourced from Unsplash