The Need for Intelligent Processes in FMCG Logistics
As part of the FMCG industry, Do you want your products to appear consistently on your shelves, with fewer stockouts and other inevitable issues? Or, have you dreamed of the breeze when everything is taken care of and your employees stay happy and productive?
Surprisingly, you don't need magic to get what you have in mind because cutting-edge intelligent processes in supply chain technology are transforming the FMCG industry. In this article, we will show you how the power of cloud technology and AI streamlines the processes in your FMCG business. 
Fast-moving consumer goods (FMCG) are a highly competitive market requiring thorough market research, cutting-edge branding strategies, and marketplace selection. FMCG businesses face numerous challenges, notably in the area of logistics management. Meeting stringent deadlines, increasing inventory levels, controlling supplier distances, ensuring traceability, and maintaining security are a few of them. These difficulties make effective supply chain optimization crucial for the FMCG industry, helping your company's success. 
How Smart Logistics Management Transforms FMCG Businesses

Five Practical Solutions for FCMG Logistics Management
Modern tools and technologies, such as blockchain, machine learning, and artificial intelligence,  can improve the effectiveness and performance of the FMCG supply chains. 
Without supply chain optimization, the FMCG sector costs can be extremely high, putting overall profitability at risk. Stock that doesn't move quickly can easily turn into dead stock, resulting in a business net loss. The entire supply chain may become dysfunctional because of equipment failure, such as a cold room malfunction.
As a result, enhancing and streamlining your logistics is crucial, and innovation is always required. New supply management techniques are frequently adopted in the quest for increased efficiency. 
Consumer products that have a short shelf life are classified as fast-moving goods. Due to high consumer demand, these products, sometimes called consumer packaged goods (CPG), have a short lifespan and a high turnover rate. In other words, FMCG items are considered fast-moving because of their short business cycles. This enables them to be continuously produced in response to high demand at traditional and online places of sale.
Food, beverages, cosmetics, cleaning supplies, personal hygiene items, over-the-counter medications, office supplies, and other consumables fall under the FMCG industry. Items that are heavily seasonal, advertised, or sold at a particular time of year can also be categorized as such.
According to consulting firm Allied Market Research, the global FMCG market will surpass $15 trillion by 2025, representing an annual growth of 5.4% up to that point.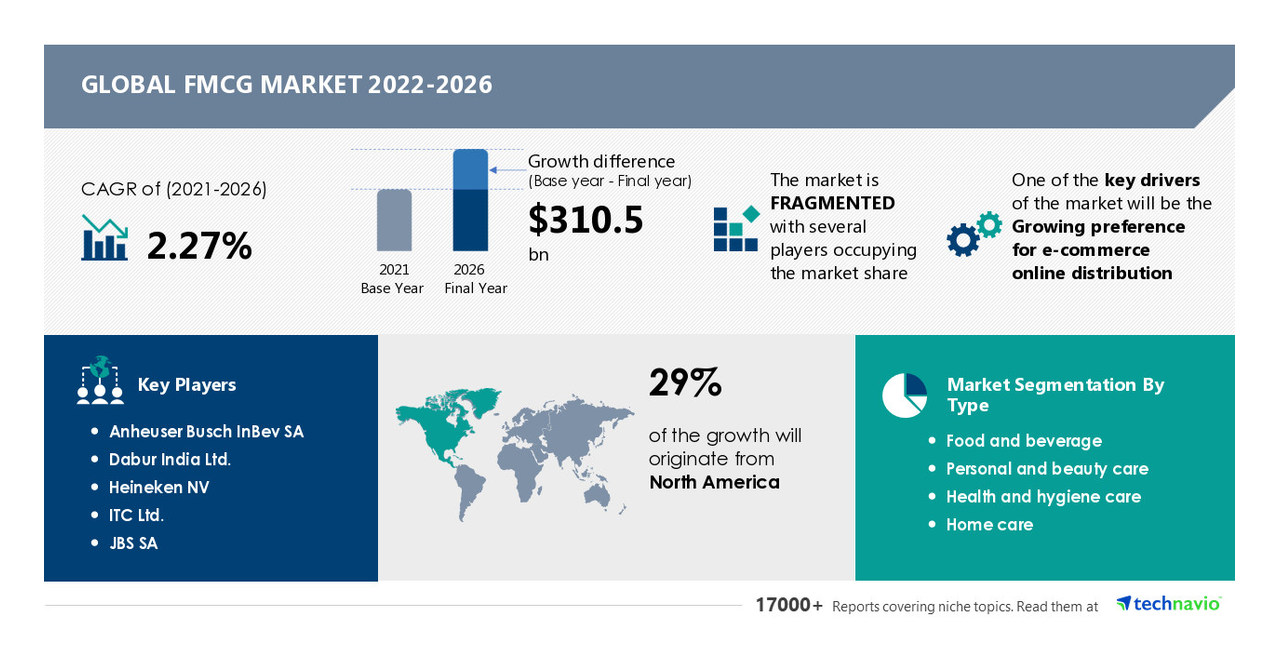 FMCG market to grow by 2.52% Y-O-Y from 2021 to 2022: Growing preference for e-commerce online distribution will drive growth – Technavio (prnewswire.com)
Nonetheless, fast-moving consumer items stand out for their low purchase cost. Due to the low market value of these goods, businesses must reduce their manufacturing, storage, and distribution expenses. These lower operating costs are needed to keep their product pricing competitive and stay in business.
How Smart Logistics Management Transforms FMCG Businesses
FCMGs have a high turnover rate, necessitating agile logistical procedures. Additionally, logistics centers must ensure complete access to the products held to fulfill orders effectively. Every customer purchase is a race against time because some items lose value the longer they stay in storage.
Order delivery is a constant challenge for FMCG products since they require optimal safety and productivity conditions in activities like storage and transportation. Beyond stock management issues, the industry struggles with short lead times, eCommerce delivery requirements, and the high demand for stored inventory.
For the rapidly changing consumer products sector, flexible tech solutions are required to increase productivity and offer complete product traceability. More visibility over your product ensures quick, safe, and efficient handling.
Optimizing your logistics management for FMCG distribution is essential for several key reasons:
Small margins and intense competition characterize the FMCG sector. Therefore, even the smallest supply chain savings can result in a substantial reduction in your costs. Lower costs, of course, boost your business's profitability. Streamlining supply chain operations can lower transportation expenses and reduce waste. It can enhance inventory control and prevent stock-outs, resulting in cost savings. 
Spending less on operational costs may also give you the leeway to charge less for your products. Budget-conscious consumers will quickly switch brands if a cheaper alternative is offered.
The FMCG sector is incredibly fast-paced. You probably stock a variety of products and deal with multiple transactions daily. With just a few minor adjustments, you can fine-tune your processes. This combination can contribute to higher operational efficiency. You can shorten lead times and quickly react to demand changes, keeping you competitive.
The FMCG sector is vulnerable to a variety of supply chain disruptions. Extreme weather events like floods, snowstorms, and heat waves can disrupt logistics management. These occurrences can cause product damage, supply chain bottlenecks, and transportation delays. These have a negative influence on the marketability of the products. You can create backup plans and improve supply chain procedures to lower inventory risk and ensure business continuity. Doing these can mitigate the damage from these types of hazards.
Reliable Product Security
Product recalls due to quality issues or safety concerns can cause significant disruption to FMCG supply chains. You must be extra careful of this if you sell food, drink, or medicines. These recalls can impact the availability of your products in the market and damage consumer trust. To prevent this, you can introduce tracking processes to monitor goods going through the entire supply chain.
Five Practical Solutions for FCMG Logistics Management
The complexity of logistics operations in warehouses that handle FMCGs has increased with the emergence of new eCommerce sales channels. Omnichannel engagement with your target customers is essential. As a result, more businesses are investing in automated and digital solutions that streamline and expedite commodity storage and deliveries.
Companies can improve their purchasing, financial, warehousing, and logistics management by utilizing the best supply chain practices in FMCG. Integrating end-to-end supply chain software solutions can increase productivity, decrease costs, and boost margins and profitability.
Transport Management System (TMS)
Supply chain organizations in the FMCG industry can optimize their deliveries using a TMS. The best thing about a TMS is that it can manage your delivery fleet or connect to carrier platforms used by third-party logistics services.
A TMS for owner-managed fleets can plan and optimize routes to speed up deliveries and reduce fuel usage. A TMS that manages and optimizes loads can also assist with carrier management by selecting the most affordable rates.
A TMS can offer real-time vehicle tracking and enable proof of delivery via mobile apps that use electronic signatures, images, GPS location information, date, and timestamps to increase customer satisfaction.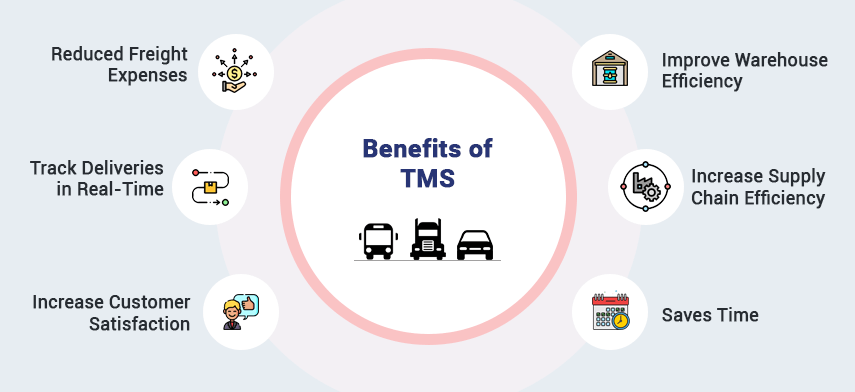 How Does Transport Management System Help Your Logistics Business Grow? (mytruckpulse.com)
   2. Inventory Planning & Forecasting
You must always maintain the correct supply level for your inventory. This guarantees that you maximize sales and minimize stockouts. By utilizing sales order information, an inventory planning system can optimize inventory levels, balancing excess and insufficient stock.
With smart supply chain planning and forecasting, you can handle seasonality and any sales peaks and dips successfully. Utilizing forecasting tools will help you optimize your stock levels by taking the guesswork out of procurement. This prevents you from using up more money for storage. Every stock saving you can achieve is valuable because lower values and bigger volumes characterize the FMCG industry.
   3. Warehouse Management System (WMS)
Any activity in the warehouse, including ordering, receiving, picking, packing, and returns, can be optimized using a WMS.
Advanced replenishment is a handy WMS feature. This optimizes the supply you have on hand and alerts you when you are running low on stock. The system automatically suggests the quantities for each SKU that requires replenishment.
Another significant characteristic of FMCG is cycle counts. Implement stock cycle counts so that you can perform more regular inventory checks. As a result, accuracy is maintained because errors are identified earlier.
   4. Automation & Robotics
You can increase warehouse productivity with the aid of robots. Autonomous mobile robots (AMRs) can work alongside human workers, carrying out laborious, tedious, or dangerous tasks. They can streamline your processes and remove obstacles to higher operational effectiveness.
They are instrumental in picking, increasing productivity by 200–300%, and cutting costs by 25–40%. They are also affordable to implement and don't require new infrastructure. AMRs are best suited for moving cases, pallets, and even huge payloads around the warehouse.
    5. Enterprise Resource Planning System (ERP)
Inventory management is crucial for an FMCG company since your stock makes up a sizable amount of your assets. You can fulfill orders across all of your channels with the help of an ERP system,  delivering real-time data for correct stock levels.
Your procurement procedures, including supplier quotations, purchase orders, order placement, payments, receipts, invoicing, and returns, are managed and automated by an ERP system. Reporting tools help you compare vendors and bargain for better prices to save money.
It is essential to incorporate technology-driven inventory management solutions to promote growth. The FMCG industry requires solid operational capabilities and enhanced visibility into your logistics management. FMCG companies must have the knowledge and resources to respond and adapt swiftly to survive multiple obstacles. Intelligent processes give you the confidence to tackle continual demand swings, fierce competition, and supply chain complexity.
Aratum offers a software ecosystem that seamlessly connects your supply chain processes. Incorporate your suppliers, partners, and customers into your logistics management. Request a demo and see which of our products best suits your FMCG business.
*Stock photo was sourced from Unsplash