SMEs, Uplifting the Backbone of the Economy (1/2)
UnionBank's Business Banking Head, Mr. Jaypee Soliman, guests in 'Keep Growing, A Supply Chain Dialogue'
Multiple leaders emphasize how crucial it is to support SMEs (Small and Medium-Sized Enterprises) across the world, especially in their digital transformation and supply chain digitalization. Unlike many banking executives who primarily focus on large corporations, UnionBank's Jaypee Soliman tackles an alternate angle that involves solving issues in the SME and Micropreneurs segment. With a commitment to probe ingenious ways to uplift SMEs in the Philippines, this episode gives us an insider perspective on the Philippine economy's biggest growth drivers.
Keep Growing is a series of dialogues on global supply chain experiences, insights, and technology. In each episode, guests are invited to discuss how companies of all sizes can overcome pain points through intelligent systems while they are pursuing growth.
Q:  You've been in UnionBank for some time. Can you tell us more about that?
A: "Quite some time" might be an understatement. I have been with the bank for 15 years now. I had a very successful career here since 2008. I started in the UnionBank transaction banking center as a salesperson in the cash management department.  I would be seen going around different corporations, promoting and selling our solutions.
In 2015, I started taking on management roles. I headed the customer segment management group under the Retail Banking Center. My responsibility then was to develop industry-specific solutions, which we called industry vertical solutions.
So, I would engage with various industries such as manufacturing companies, shipping companies, healthcare, education, and more. We would identify each industry's relevant pain points and cash flow patterns and then tailor products and services to address those specific needs. In 2019, I was appointed to lead the SME group, focusing primarily on digital solutions for SME banking.
We introduced mobile apps designed for SMEs and transformed certain products into digital offerings to better serve SMEs. Leveraging my experience in corporate banking and customer segmentation, we were able to adapt corporate products to suit the needs of SMEs. I believe this is the most significant contribution we have made to the SME market–fulfilling their specific requirements.
With 15 years of experience in the bank, I have gained extensive knowledge across various aspects of banking, including deposits, credit, treasury, trust, and credit cards. This diverse expertise enabled me to align our products effectively for the respective customer segments.
Q: Can you let us know more about – why SME? And why digital?
A: During my extensive work with corporations, I observed that the corporate ecosystem heavily relies on SMEs. While the principal customers in the supply chain are typically larger "Top 1000" customers, it is the SMEs that occupy the middle portion, connecting the entire chain to the end consumers. In fact, when it comes to the supply chain, SMEs can be considered the crucial last mile.
SMEs play a vital role in bringing services and products directly to the end consumers. When we explored opportunities to strengthen our relationships with corporates, we strategized on expanding our customer base and encouraging more customers to utilize our corporate products. It became apparent that SMEs faced two significant challenges.
Firstly, they often couldn't afford the existing products,  designed with larger-scale requirements in mind. Secondly, the complexity of these products posed difficulties for them.
To address these issues, we had to simplify and digitize our products significantly, not only in terms of their delivery but also in terms of enhancing the overall customer experience.
I'll provide you with a compelling example to illustrate my point. In the supply chain, payments play a tremendously significant role. It's a crucial aspect. On the supply side, you have a principal entity making payments to SMEs, and then SMEs making payments to their suppliers, and so on. In the corporate world, payments are typically conducted through checks.
Even now, I'm sure you receive checks from other corporate entities. This practice exists because corporations have their own established processes and approval procedures in place. We offer products like a check-writer, which allows corporates to upload a file containing a thousand checks they need to print for a month. They approve it once, and we handle the printing and other necessary steps. However, for an SME that only issues one check per day or perhaps five checks in a month, this process becomes overly complicated.
To engage in such a process, an SME would need an Enterprise Resource Planning (ERP) system, which they often do not possess. These systems require the ability to manage approval and transaction matrices, among other features. An SME, on the other hand, is often just one individual, the owner, who handles all aspects of their business operations.
Considering this, we devised a solution by simplifying the check-writer system into user-friendly software that can be easily downloaded onto a computer. This enables SMEs to engage in self-service check writing. Instead of relying on the bank to print their checks, which incurs a cost of 50 pesos per check, SMEs can use their own printers to print checks. This was the initial step in our digital strategy, which we named "Business Check."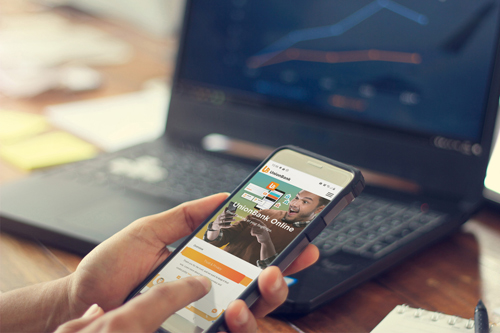 Later on, we further developed the solution and discovered that many SMEs, especially in recent times, prefer to avoid printing checks altogether. Instead, they opted to fill out relevant information in a mobile app and request the bank to print the check on their behalf. The supplier can then collect the check directly from the bank. This transitioned the process from a batch-oriented approach to a more streamlined, one-to-one transactional system. Our solution continues to evolve in response to changing needs.
The key to this evolution lies in leveraging digital technologies. Implementing solutions in a digital space offers a more seamless customer experience compared to manual, human-centered processes. By embracing digital advancements, we can enhance efficiency and convenience for SMEs.
It's not just about observing; in fact, ever since I took over customer segments and retail banking in 2015, I have made it a priority to engage with my customers deeply. Customer insight is of utmost importance. It's not just about asking, "How can I improve your life?" but rather delving deeper and asking, "Why are you doing this?" It's akin to the theory of asking 21 questions or 21 "whys" until you reach the ultimate reason where there is no further answer.
That approach is how my team has conducted customer insights as we strive to truly understand the ultimate benefits of the technology we need to develop. It's not just about designing a process; it's about designing the right process for the individual and ensuring that the end goal aligns with what is most important to them, not just the company.
By digitizing the intermediate processes, we effectively address the ultimate pain point. That is the essence of our innovation. Through numerous interviews and discussions, we have consistently discovered that understanding the ultimate benefit for users is at the core of solving pain points. Our approach is to identify the key value that users seek and then design solutions that fulfill those needs.
Q: The World Economic Forum talks about how SMEs are the backbone of the economy. What's your response to this?
A: Well, that's something you'll encounter everywhere you go. For instance, over the weekend, I traveled to La Union, a province in the northern Philippines, for an event. And what you'll notice is that 90% of the establishments there are SMEs. It's quite remarkable. Whether you step out of your house or descend from your condominium, you are surrounded by SMEs. They not only serve as the backbone of the economy but also drive GDP (gross domestic product) growth and commerce in the Philippines. While large corporations may have the most prominent businesses, they rely on SMEs to serve their markets effectively.
Think about FMCGs (fast-moving consumer goods) companies like Unilever and Procter & Gamble. They may produce the goods, but who delivers them to the market? It's the grocery stores, the sari-sari stores, and the Grab riders—the SMEs.
Now, let's consider the healthcare industry. While hospitals may be large corporates, it's the doctors, clinics, and other healthcare professionals who truly serve and assist the patients. These individuals are essentially business owners and SMEs. The same can be said for schools and nearly every other industry. SMEs play an integral role in delivering services and are an essential part of the core supply chain. Even utilities such as electricity and water heavily rely on SMEs.
Without SMEs, our daily lives would be significantly affected. Just think about when you wake up every morning and turn on the lights. Behind that simple act, there is a multitude of SMEs working tirelessly to provide that light and electricity. While distribution companies like MERALCO play a role, it's the SMEs who install the infrastructure, such as poles and electric wires, and ensure that the lights in your room function properly.
Describing them as the backbone may be an understatement—they are integral to our society. Whether in first-world or third-world countries, SMEs are the driving force behind the day-to-day activities of individuals and communities.
Q: What do you consider one of the most significant challenges SMEs face in terms of supply chain issues? 
A: There are indeed numerous challenges in the world of SMEs. One major challenge they face is the cost associated with various aspects of their operations. Specifically, when it comes to banking, the cost of onboarding with a bank can be quite daunting for SMEs.
Additionally, they encounter challenges related to borrowing money, transferring funds, and other associated costs. These financial burdens pose significant obstacles to their growth. It's important to note that these challenges extend beyond transaction fees and include various incidental costs.
Around 2017 or 2018, we studied the cost of transferring money from UnionBank to another bank for small businesses. The expense amounted to approximately 70 to 80 pesos, including factors like travel, paper, teller processing, and return trips. In addition, there was a fee of one or two dollars per transfer. These costs quickly accumulate, posing a challenge for SMEs.
To address this, when we designed the fund transfer mechanism within our platforms and mobile apps for SMEs, we ensured that we catered to all their needs during such transactions.
What does that entail?
Firstly, we aimed to include as many banks as possible that they can transfer funds to.
Secondly, we strived to support multiple currencies they might require for these transfers.
Thirdly, we aimed to cover numerous countries since SMEs often also engage in international transfers.
Lastly, we tackled the biggest hurdle and pain point: reconciliation. Many SMEs prefer going to a bank, writing on a piece of paper, and handing it to a teller because they can be certain the transfer has been completed when it is stamped.
Therefore, we needed to incorporate confidence-building mechanisms within their mobile apps and platforms to assure SMEs that their transactions were successfully processed. We implemented features such as notifications and online transaction histories to fulfill these requirements.
We have to understand these things and gain direct insight from the market and the SMEs themselves. This way, when we design products and technology, we can tailor them to their specific needs.
As I mentioned, there are numerous challenges, one of which is access to credit. It's a significant issue, with studies showing that 70% of SMEs require credit. I believe this study was conducted by either the IFC or the World Bank. When we talk about "access to credit," it means they need access to credit that they can qualify for. There's a distinction to be made there.
Traditional credit mechanisms require SMEs to submit numerous documents like financial statements, tax returns, and collateral. However, SMEs often have urgent financial needs without all the necessary documents. We developed alternative credit scoring methods using online sales history and supply chain relationships to address this. One successful example was our collaboration with Lazada in 2020, allowing online sellers to borrow based on their sales history. This alternative credit model benefits online sellers who struggle to secure loans from traditional banks.
By harnessing the power of artificial intelligence, data science, and other cutting-edge technologies, we can provide micropreneurs and online sellers with the financial support they need to fuel their businesses and contribute to platforms like Lazada. Challenges undoubtedly exist within the SME world, but precisely these challenges drive my work. I aim to identify opportunities amidst these challenges, create optimal user experiences, and develop new products. The supply chain world is also undergoing a digital transformation that aligns with these advancements.