A Complete Guide to a Successful WMS Implementation
The increased internet usage and online shopping growth worldwide have significantly altered consumers' purchasing patterns. Customers have increasingly sought offers and guarantees of hassle-free returns, fast delivery, and the ability to shop anywhere.
Since more consumers are now buying stuff online, several entrepreneurs are emerging. According to a report by The Financial Times, the Covid-19 pandemic has fueled new business startups. Many of these new startups have been proliferating, and that's because they have embraced technology in their businesses.
One of the key technological ways to empower your business is by implementing a Warehouse Management System. If your business falls under manufacturing, retail, food and beverage, 3PL, wholesale distributors, or health and hospital care, read on to learn how WMS can improve and grow rapidly.
What is WMS Implementation?
WMS implementation is the process of putting a warehouse management system into place. This system helps businesses digitize their logistics operations and avoid errors.  It also helps organize all activities occurring inside and outside their logistics facilities.
In addition to being a practical response to the complexity of modern logistics, investing in supply chain digitization offers a competitive edge. Aside from maximizing warehouse efficiency, shopping trends like free product returns, omnichannel sales, and SKU proliferation need digitized and automated management.
As its name suggests, a warehouse management system assists in maintaining orderly warehouses. On top of that, it keeps track of inventories and streamlines order fulfillment. A WMS also monitors stock levels, various product models, and product locations in the warehouse.
A WMS can even assist with tracking delivery, reordering when inventory levels drop, and meeting consumer demand.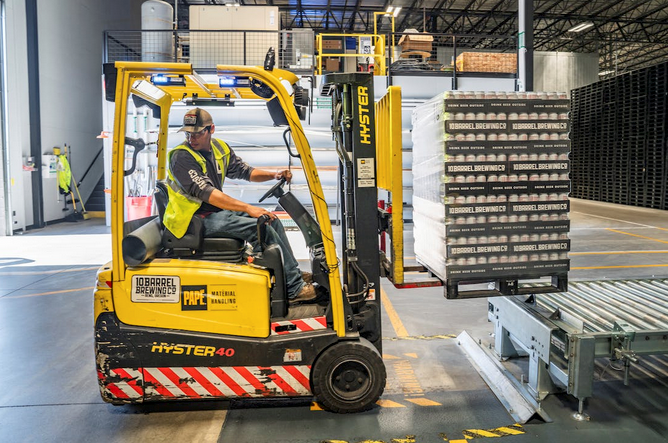 Photo by ELEVATE on Pexels
Why you need WMS Implementation
In recent media reports, the logistics sector worldwide has warehouse shortages due to the non-stop influx of online orders, which is an apparent cause. However, according to experts, the primary reason for the shortage is a troubled supply chain and bad inventory management of businesses.
A supply chain and WMS implementation backed by a cloud-based solution can prevent warehouse problems. It guarantees a smooth-sailing business that can help you save on expenses while keeping your customers happy and loyal.
A WMS manages the flow of items that move through your facility while streamlining the paths taken by the staff and automated machinery. During this process, the system recommends the most cost-effective picking routes. The WMS also organizes order-picking tools, such as RF scanners, voice-picking devices, and pick/put-to-light systems.
Using a warehouse management system, you can quickly identify products with solid demand and underperforming ones. A WMS can also lessen errors and reduce the time needed to locate products in the warehouse.
All of this generally enhances warehouse performance and lowers operational costs.
Eight Key Steps for WMS Implementation
Firms can apply best practices to achieve long-term success when initiating a WMS implementation project. This includes carrying out implementation in phases. By doing this, management and your warehouse teams will develop trust in the project. They'll make intelligent business decisions and develop independence through system testing and user training. A phased strategy should adhere to a customized implementation methodology to speed up deployment and increase return on investment.
Align Implementation with Your Business Goals & Strategy
Warehouse management systems are essential to your eCommerce operation's success and continued growth. Think of the best choice for your firm's long-term strategy and objectives.
Your chosen WMS software must be flexible enough to adjust to rapidly changing market requirements and scale when necessary. Compare the main features of competitors' products and select the technology that best suits your company's needs.
Select Which Business Functions You Want To Augment
Your supply chain managers must work closely with your IT team to perform an objective gap analysis before choosing warehouse management software. A gap analysis guarantees that the WMS software will satisfy your business requirements and be consistent with your organization's Standard Operating Procedures (SOP).
Instead of being driven by the retailer, a WMS implementation process should be focused on the customer. Start by making a shortlist of all the systems you determine are capable of meeting your business needs. Request a demonstration from each WMS provider to better understand how their product will handle scenarios unique to your company.
It may also be a good idea to consult with similar companies in your industry to help you identify the strategies they've used to grow.
Set Goals and Realistic Time-Frames 
Consider your staff's learning curve when deploying a warehouse management system. There is enough time for staff members to acquaint themselves with the new software. The software's initial learning curve will increase the time it takes for your personnel to provide outcomes.
Senior management should perform careful analysis and take into account the length of time needed for training. This helps define a realistic WMS deployment timeframe. Management and staff members should agree on the time frame to produce a favorable ROI.
Work With Your Service Provider for Best Practices
Each WMS provider will already have a list of dos and don'ts for their software. This information is derived from years of experience serving customers just like you. Adopting the best practices advised by your vendor is one of the quickest methods to maximize the WMS software.
They will be able to provide you with an implementation strategy after you've chosen your vendor, taking your needs into account. These include practical actions that simplify your warehousing procedures and boost operational effectiveness.
You can also quickly request assistance with any implementation-related problems you may run into. Having a software vendor representative on-site will greatly expedite any urgent support. You can resolve issues rapidly if you consult with your service provider.
Build Your Implementation Team
The team's ability to successfully deploy your warehouse management system is crucial. As a result, you should gather the most talented individuals for the job. Assembling diverse professionals can provide you with viewpoints and varied industry expertise.
Start with a project manager who works well with the participating team members. They need to plan the implementation and coordinate efforts to meet specific goals. The project manager must oversee all facets of the implementation project.
Next, involve your warehouse managers, who will be the ones to be primarily impacted by the WMS implementation. An ideal candidate is someone familiar with the company's warehouse and understands the project's needs. They'll also need to know how to maximize budgets and be involved with warehouse operations.
Technical tasks will need the help of database administrators, IT engineers, and WMS trainers. They will manage data, monitor applications, and oversee technical training.
Lastly, have a live team ready to handle hands-on tasks in the warehouse when your system is set to go live.
Before going live, testing the WMS properly after installation is crucial. In addition to training personnel on the new system, this also entails testing the hardware and software. You'll need to detect any potential problems when the system is implemented. Therefore it's best to test the system in a simulated environment. Ensure the system functions as intended and that all staff members are familiar and comfortable with the new protocols.
No matter how powerful and valuable your WMS is, it has no meaningful economic value if the end users cannot properly use it.
It is best to rely on the knowledge of your WMS vendor for training purposes. They are the experts on their product, after all. Executives should openly communicate their needs with the vendor. You can customize training modules and procedures to tackle specific issues and requirements. An SOP should be documented in addition to training to ensure that everything runs well. It is a good idea to note each necessary procedural step and provide screenshots of the system. Comprehensive training reduces errors and increases output.
Implementation and Going Live
Your service partner will configure the WMS system to meet your requirements. Depending on the software and the need for custom customization, the technical process may take 2 to 8 weeks. Once the system has been thoroughly tested and a cut-over/go-live strategy has been devised, your team should be ready to go live with WMS implementation.
The implementation team must be present onsite to offer prompt support. A clear communication channel is required to limit the effect of any errors or gaps detected after the go-live.
WMS implementation is a challenging undertaking. It's best to ensure that your software is configured to support your operations best. The WMS is there to make it simpler than ever to handle incoming or outgoing orders or monitor inventory levels. The logistics/warehouse team and your IT partner must carefully coordinate to optimize and maximize WMS operations for your business.
Going through with WMS implementation is a significant milestone for any eCommerce business. Working with Aratum makes things easier with our complete software suite designed for supply chain operations. Our all-in-one system is fast, flexible, and forward-focused. Get started by booking a demo for you and your team.
*Stock image was sourced from Unsplash